Hydro Consulting & Maintenance Services
Hydropower projects are a major renewable energy source and will always play a vital role in the economy. They are important because hydropower provides a cost-friendly and environmentally friendly supply of power that boosts energy services. It might be the backbone of our economy.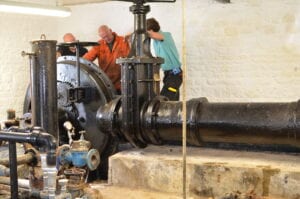 Since hydropower is among the main contributors of the economy, the hydropower systems need to be operated well and maintained with a significant amount of care. Hydropower systems that are not properly maintained can incur huge reductions in the rate of energy production, even though the operating hydropower maintenance costs will always remain constant. It will entirely affect the general income at the end of it all.
Hydro turbines are always designed in unique ways and have classy operational characteristics so they can work to the best of their ability. We recommend that while operating hydro plants, always have a local contact with daily duties of checking on the power plant operates according to the specified conditions. Having local contacts will make it easier for them to identify flaws and take care of them quickly.
Hydro Consulting & Maintenance Services covers various aspects of operating a hydropower system;
Hydro power maintenance.
Hydro turbine maintenance training.
Hydro power plant upgrades and improvements.
Hydro insurance.
1. Hydro Turbine Maintenance
Hydro Maintain can create a hydropower maintenance manual for you if you wish to have one. We will work closely with your turbine supplier and manufacturer to extract the right maintenance procedures specific to your system. This will enable us to develop a maintenance manual that has step-by-step instructions that will make it easy for you to maintain your power plant.
We also offer service contracts that come with regular maintenance and inspections to make sure that your plant operates correctly. The number of visits will vary depending on the size, type and how complex the system is.
2. Hydro Turbine Maintenance Training
Once we develop a maintenance manual for you, we can use the manual to provide hydro turbine maintenance for your staff. Having your manual and well-trained staff will cut on your hydropower plant's operation and hydropower maintenance costs.
Our experienced engineers will visit your plant to carry out routine checks or simply health checks. Through these health checks, we will replace any parts that need changing then record the outcome of the check in your maintenance manual.
We recommend that you have a hydropower project manager who will be in charge of duties such as overseeing the routine maintenance of your plant and record in a special maintenance manual.
3. Hydropower Plants Upgrade and Improvements
During our routine inspections, our team of experienced engineers will provide a record of their findings and point out any necessary recommendations or observations. We will happily provide some of the items that your plant will require during our routine visits. Hydro Maintain can offer to provide some spare parts for your hydro power plant during our first visit to a new plant. As part of our maintenance packages, we also offer hydro insurance solutions.
During our scheduled visits, our maintenance engineers have a phone and email access to our customer care desk so you can feel free to ask them for our contact information. Since we work with many other clients, we always make sure we stay a step ahead and keep up with the latest power purchase agreement rates to ensure client satisfaction.
Hydro Maintain's consulting and maintenance services are among the leading companies in the market to offer hydropower system maintenance. If you wish to carry out any operations or maintenance works at your plant, please contact us for more information.
Get in touch with our Hydropower Maintenance team on 0330 1331 555 or email us at enquiries@HydroMaintain.com. Alternatively, fill in the enquiry form below and we will get back in touch as soon as possible.